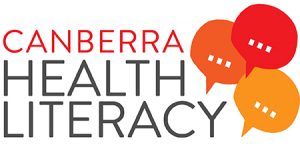 Health literacy describes the confidence, motivation, and skills we each draw on to get, understand and use health information in daily life.
The Community Health Literacy Project has developed a range of resources to help health consumers build their health literacy, and to assist health and community professionals to make it easier for people to get health information, make health decisions and access health services. The Project includes the Canberra Health Literacy website and the Canberra Health Literacy Network.
To find out more and get involved contact our Health Literacy team on (02) 6230 7800 or email [email protected].
This project is supported by the ACT Health Directorate.