HCCA Honorary Life Membership Awards
22 November 2021
Russell McGowan and Adele Stevens were awarded with Honorary Life Membership at the Annual General Meeting on 17 November 2021.
This is a special form of membership which is bestowed upon any member who has made an outstanding and significant contribution to the organisation. The purpose of life membership is to recognise members who have given outstanding contribution, service or assistance to advancing the work of HCCA and the consumer movement.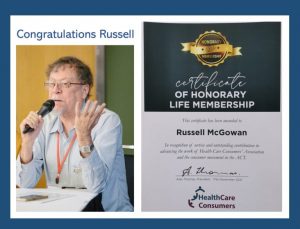 Russell McGowan joined HCCA in the late 1990s after joining Janne Graham in advocating for consumer involvement in the formation of Cancer Registries on behalf of the ACT Cancer Society. Russell helped form and co-convened an Oncology Services Consumer Group in Canberra.
Russell is a supreme networker, hugely articulate, a walking encyclopedia of knowledge about healthcare systems, the people involved, the history of developments, the genesis of ideas, the politics and the intrigues. He is a very modest man, extremely generous with his time and knowledge, mentoring many of us in our involvement with healthcare advocacy, always joining the dots and simultaneously thinking outside the box. He is highly regarded by all he comes in contact with, even if they sometimes don't agree with him!
Russell was President of HCCA for more than a decade. This time under Russell's leadership and vision, was a significant growth period for HCCA, which grew from a single part-time employee to a staff of up to ten people, via triennial grant and project funding.
Russell made a substantial contribution, both to HCCA and to the Australian scene, with his focus on the quality and safety of healthcare. He understands the importance and probity of accreditation and standards, and over many years has been a significant driver and leader in encouraging HCCA staff and members to build their knowledge of standards, accreditation and other regulatory functions.
Russell has continued to be an active participant in HCCA. For instance being the Chair of the eHealth Consumer Reference Group since it formed in 2009 until it finished in 2020 and being an active consumer representative.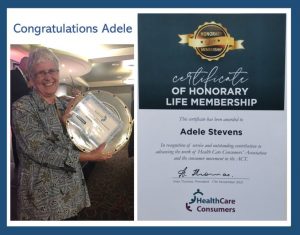 Adele Stevens joined HCCA in 2003, and has been a very active member of the organisation. Adele was elected to HCCA president in 2008 and held this role until 2012. She continues to be involved in many aspects of the organisation, including chairing HCCA's Health of Older People Consumer Reference Group. Adele has been an outstanding advocate through her role as a consumer representative on a wide range of committees.
Adele is a trusted and respected consumer advocate with a deep commitment to improve end of life care and better access to palliative care in the ACT. She has a deep knowledge of the issues, from her own experience, her extensive community and consumer networks and her long involvement as a consumer representative to health services decision-making and governance committees including the ACT Palliative Care Clinical Network. Adele represented HCCA at the 2018 ACT Legislative Assembly Inquiry into End of Life Choices in the ACT.
Adele was involved in submissions and hearings for the ACT Legislative Assembly's Inquiry into the Drugs of Dependence (Personal Use) Amendment Bill 2021, providing her expert knowledge and experience to strongly advocate for consumer issues in this important policy area.
Congratulations Russell and Adele and thank you for making HCCA the strong, credible and responsive voice for consumers in the health system. They join Janne Graham as life members of HCCA – a very special group of people.