Keeping Consumers at the Centre of Medicines Use in Australia by Kathryn Briant
3 March 2020
A summary of a presentation made at the ISIUM Conference (Bangkok -January 2020) – People Improving the Use of Medicines: What We Know and Don't Know
Kathryn Briant, Health Care Consumers' Association, Canberra ACT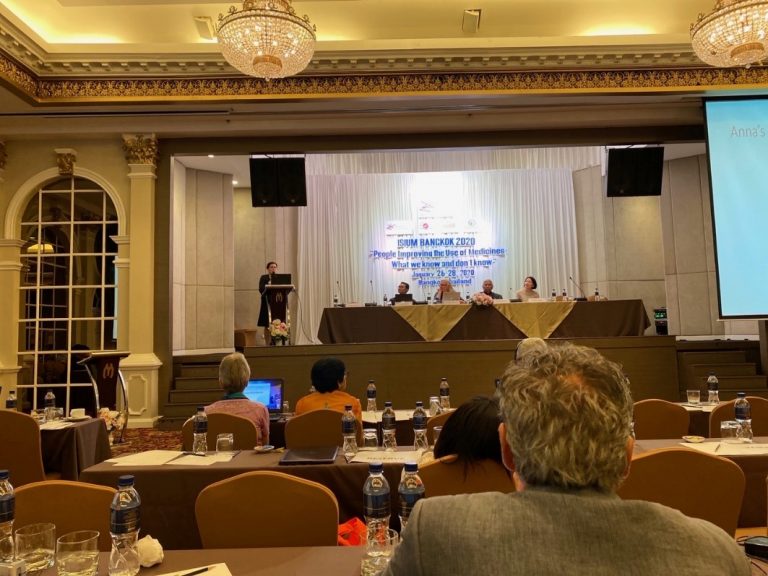 A case study – Anna's Story
Anna is 70yrs old, married and a loving grandmother, with a non-English speaking background. She has a history of arthritis, heart disease and high blood pressure. On a recent visit to her GP, she is prescribed an ACE inhibitor, to better manage her high blood pressure. Her GP also tells her to stop taking her diuretic she has been taking for a number of years. But she leaves the appointment, Anna doesn't really understand or remember this instruction, and her daughter who usually accompanies her to GP visit couldn't attend that day. Her daughter usually writes everything down and reiterates all the instructions from the GP with Sally after the consultation, when they get home. The next day, Sally has a flare up of her arthritis in her elbow, and finds some ibuprofen in her bathroom cupboard that she had been prescribed the year before.  She takes her new ACE inhibitor, her diuretic and high doses of ibuprofen every day for the next week.  Her kidney is attacked –  she ends up in hospital and almost succumbs to kidney failure.
Anna's story reminds us of how easily things can go wrong with medicines. The importance of clear communication and, where needed, providing written instructions to patients to refer to outside of their consultations.  Perhaps explaining the danger or outcomes of not ceasing a medication that might interact with one newly prescribed.  The great value of home medicine review in picking up medicines that have been hoarded and no longer needed that could cause interactions and/or harm. Stories like Sally's remind us that while medicines can help us to address health problems and improve our quality of life, they often cause confusion for consumers. We don't always get the information we need, or know what questions to ask. The result can be all kinds of problems, as well as potential or actual harm.
Defining Quality Use of Medicines
Australia's National Strategy for Quality Use of Medicines provides this three-fold definition:
Selecting management options wisely
Choosing suitable medicines if a medicine is considered necessary
Using medicines safely and effectively to get the best possible results
What guides the Quality Use of Medicines in Australia?
The consumer experience of medicines is important in shaping health systems towards the quality use of medicines. In Australia, the consumer voice is heard through a number of national and state-based organisations. Consumers were pivotal in developing Australia's National Medicines Policy (1999). The National Medicines Policy provides a framework for balancing a partnership between consumers, government and industry under Australia's universal health care system:
The key pillars of the NMP are:
Timely access to the medicines that Australians need, at a cost individuals and the community can afford
Medicines meeting appropriate standards of quality, safety and efficacy;
Quality use of medicines; and
Maintaining a responsible and viable medicines industry
Other key guiding documents are the National Safety and Quality Health Services (NSQHS) Standards – 2nd edition, the Australian Charter of Health Care Rights, and the work of Australia's National Prescribing Service.
Four Challenges for QUM in Australia
Fostering a culture of shared decision making in health care – this change in culture is supported by the NSQHS standards and over time we should see this approach becoming more embedded in the way that care is delivered. Consumers needs to be supported to become active partners in their own care – it takes time to establish trust, develop relationship and communicate effectively. Consumers want a plan of care that is developed with us, not just for us.
Developing individual and community health literacy – including health professionals supporting consumers in improving their health literacy, such as:

Looking at choices/options together to share in best-practice decision making for the individual consumer, our values and preferences
Using teach-back as a communication tool
Seeking advice or referral where extra knowledge or experience is needed to best care for a patient
Encouraging consumers to use 5 Questions from Choosing Wisely Australia as part of their process of asking questions towards making decision about their health care.
Providing access to consumer-friendly information resources

Meeting information needs in a multicultural society – improving access for consumers to interpreter services, remembering that good communication is fundamental to quality health care and quality use of medicines. This also includes having health information, and information about medicines, available in other languages. It's also about health professionals understanding what is culturally acceptable in individual consumers in terms of health care and medicines as individual needs can be variable.
Addressing access with rising inequity and the barriers of costs to consumers – to do this, some of the actions include:

Social history taking, to understand the range of non-clinical barriers that may limit access to health care of medicines, or that may impact ongoing management.
Discussing out-of-pocket costs with consumers – as this impacts on health outcomes and the quality use of medicines.
Revisiting our Case Study – Anna's Story
Let's revisit Anna's story. On a recent visit to her GP, she is prescribed an ACE inhibitor, to better manage her high blood pressure. Her GP also tells her to stop taking her diuretic medicine she has been taking for a number of years. Her GP explains that both these medicines treat high blood pressure, but the new medicine with replace the diuretic. It is dangerous to take both, this could cause serious harm. The GP also notices that Anna's daughter is not with her, as she usually comes long to her appointments to make sure Anna understands the information from the GP, and to assist with any questions. So the GP takes care to write Anna a list of key points about her medicines and other advice from the appointment, so that she can refer to it later and discuss it with her daughter too, especially important when English has not been her first language.
She recently had an at-home pharmacy review. The pharmacist helped sort through the medicines she was storing that were no longer needed, and talked through her medicines list, what each had been prescribed for and side effects to watch out for. The pharmacist also made sure she had copies of the Consumer Medicines Information for each medicine too.
The next day, Anna has a flare up of her arthritis in her elbow. She followed the advice of the GP and ceased taking her diuretic before starting perindopril. She is going to the local pharmacy to fill her new script anyway, so she asks the pharmacist some advice about what she can do to deal with the arthritis pain, that won't interact with anything on her medicines list. Together they update her medicines list to ensure it is up to date, and she takes home a copy of the CMI for perindopril for reference, after discussing the main points with the pharmacist. The pain from her elbow subsides in a few days. Over time it seems that perindopril is a more effective medicine for managing Anna's blood pressure, and she feels better and more able to carry out her regular, everyday activities.
This is a much better outcome for Anna, when she is at the centre of her health care and supported to share in decision making for the Quality Use of Medicines.