A Guide for Consumers: Partnering with Health Organisations in the ACT
Published: 2022
A Guide for Consumers: Partnering with Health Organisations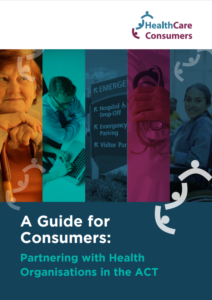 in the ACT is for people who are motivated to advocate for positive change in the ACT's health system, drawing on their own personal experience and knowledge.
A health care consumer representative (or consumer representative) is someone who has taken up a formal, specific role, in partnership with a health service, provide a consumer perspective. This Guide is written with consumer representatives in mind.
Much of the information in this guide can be used to support any partnership between consumers and health services within the health system. Whatever type of activity you participate in, the overall aim will be to improve healthcare for everyone. Consumer representatives give voice to consumer perspectives and take part in decision-making on behalf of all consumers.
It takes a committed and motivated person to become a consumer representative and be a part of work being done to improve the health system. You will make an important difference to the people who use health services and their families and carers.
Thank you for your contribution. You might call yourself a health consumer representative, patient advocate, or consumer and carer representative. There are many names for this role, but the purpose is the same – your experience and insights guide positive changes to the design, development, implementation, and governance of health services.
You can use this Guide as a quick reference tool and dip in and out as you need. It has been written to be read a section at a time to offer guidance in your consumer role. This Guide has been prepared by the Health Care Consumers' Association of the ACT (HCCA) and contains information tailored to the ACT and region, based on the Health Consumers Queensland guide.